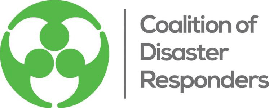 Clean Pro Is A Founding Member Of The Coalition Of Disaster Responders (CDR)
CDR was formed to organize first responders. The goal is to create a single, integrated group with the diversified capabilities and resources required to handle large scale property losses and recovery efforts.
Multiple Companies, Diversified Capabilities, One Solution
Clean Pro is a founding member of the Coalition of Disaster Responders (CDR). CDR was created to unify a group of top-notch first responders. There are currently 15 associate companies with combined resources including 15,000 units of portable equipment, 250 units of large equipment and over 800 certified disaster response technicians.
At the core of CDR you will find competence, integrity, and value through economies of scale. Our ultimate goal is to respond quickly with the resources required to get our client's properties and businesses online and operational. We offer these services with competence, efficiency, and most importantly, integrity.
All CDR contractors adhere to the same standards regarding response times, mitigation strategies, recovery processes, process validation, project controls, safety, pricing, and HR. This means we are all on the same page before, during, and after a major incident. You know what to expect BEFORE and AFTER the next incident.
Structural Drying Equipment Suppliers
Mechanical Contractors
Electrical Contractors
Plumbing Contractors
Safety Training Experts
Environmental Contractors
Materials Suppliers
Property Mitigation & Stabilization Experts
Heavy Equipment Suppliers
Architects
Structural Engineers
Civil Engineers
Mechanical Engineers
Air Quality Experts
The bottom line, as your general contractor, we have the resources needed to get your organization up and running quickly, efficiently and safely.